WiseGuyReports.com adds "Global Video Transcoding Market 2015-2019" reports to its Database.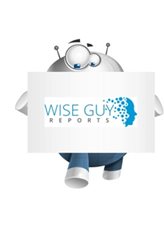 pune, India - December 7, 2017 /MarketersMedia/ —
About Video transcoding
Video transcoding is the process of converting a media file of one format to other; the conversion is either digital-to-digital or analog-to-analog. This is the standard procedure followed when the target device does not support the format or has limited storage capacity. Transcoding helps in converting the data into the suitable format as well reduces the file size. This is also used to convert incompatible data to a better-supported format and for fitting various HTML files or graphics files to the unique constraints of smartphones, tablets, and other web-enabled devices.
Technavio's analysts forecast the global video transcoding market to grow at a CAGR of 15% over the period 2015-2019.
Covered in this report
The report covers the present scenario and the growth prospects of the global video transcoding market for the period 2015-2019. To calculate the market size, the report considers the revenue generated through video transcoding services. The report lists only the key vendors in the market; it does not present the market share of all vendors.
Technavio's report, the Global Video Transcoding Market 2015-2019, has been prepared based on an in-depth market analysis with inputs from industry experts. The report covers the Americas, and APAC and EMEA.
Key regions
• Americas
• APAC
• EMEA
Key vendors
• Encoding.com
• HaiVision Systems
• Harris Broadcast
• VBrick Systems
• Wowza Media
Request For Sample Report @ https://www.wiseguyreports.com/sample-request/59491-global-video-transcoding-market-2015-2019
Market driver
• Software application redefining the market
• For a full, detailed list, view our report
Market Challenge
• Difficulties in completely monetize video content
• For a full, detailed list, view our report
Market trend
• Software and cloud integral part of future design
• For a full, detailed list, view our report
Key questions answered in this report
• What will the market size be in 2019 and what will the growth rate be?
• What are the key market trends?
• What is driving this market?
• What are the challenges to market growth?
• Who are the key vendors in this market space?
• What are the market opportunities and threats faced by the key vendors?
• What are the strengths and weaknesses of the key vendors?
Table of Contents:
01 Executive Summary
2 List of Abbreviations
3 Scope of the Report
3.1 Market overview
3.2 End-user segments
03.2.1 Media and entertainment
03.2.2 Enterprise
3.3 Customer segments
03.3.1 Commercial customer
03.3.2 Individual customer
3.4 Base year
3.5 Vendor segmentation
3.6 Product offerings
4 Market Research Methodology
4.1 Market research process
4.2 Research methodology
5 Introduction
6 Market Landscape
6.1 Market Overview
6.2 Market Size and Forecast
6.3 Five Forces Analysis
7 Market Segmentation by End-user
7.1 Global Video Transcoding Market by End-user 2014-2019
7.2 Global Video Transcoding Market by Media and Entertainment
07.2.1 Market Size and Forecast
7.3 Global Enterprise Video Transcoding Market by Enterprise
07.3.1 Market Size and Forecast
8 Geographical Segmentation
8.1 Global Video Transcoding Market by Geographical Segmentation 2014-2019
8.2 Video Transcoding Market in Americas
08.2.1 Market Size and Forecast
8.3 Video Transcoding Market in EMEA
08.3.1 Market Size and Forecast
8.4 Video Transcoding Market in APAC
08.4.1 Market Size and Forecast
9 Key Leading Countries
9.1 US
9.2 UK
9.3 China
10 Buying Criteria
11 Market Growth Drivers
12 Drivers and their Impact
13 Market Challenges
14 Impact of Drivers and Challenges
15 Market Trends
16 Trends and their Impact
17 Vendor Landscape
17.1 Competitive Scenario
17.1.1 Encoding.com
17.1.2 HaiVision Systems
17.1.3 Imagine Communications
17.1.4 VBrick Systems
17.1.5 Wowza Media Systems
17.2 Mergers and Acquisitions
18 Key Vendor Analysis
18.1 Encoding.com
18.1.1 Key Facts
18.1.2 Business Overview
18.1.3 Geographical Presence
18.1.4 Recent Developments
18.1.5 SWOT Analysis
18.2 Haivision Systems
18.2.1 Key Facts
18.2.2 Business Overview
18.2.3 Business Strategy
18.2.4 Recent Developments
18.2.5 SWOT Analysis
18.3 Imagine Communications
18.3.1 Key Facts
18.3.2 Business Overview
18.3.3 Business Categories
18.3.4 Key Solutions
18.3.5 Recent Developments
18.3.6 SWOT Analysis
18.4 VBrick Systems
18.4.1 Key Facts
18.4.2 Business Overview
18.4.3 Recent Developments
18.4.4 SWOT Analysis
18.5 Wowza Media Systems
18.5.1 Key Facts
18.5.2 Business Overview
18.5.3 Recent Developments
18.5.4 SWOT Analysis
Continued…….
Enquiry Before Buy @ https://www.wiseguyreports.com/enquiry/59491-global-video-transcoding-market-2015-2019
Contact Info:
Name: norah trent
Email: sales@wiseguyreports.com
Organization: WiseGuyResearch Consultants Pvt Ltd
Address: Office No. 528, Amanora Chambers Magarpatta Road, Hadapsar Pune - 411028 Maharashtra, India
Phone: +1 (339) 368 6938
Source URL: https://marketersmedia.com/global-video-transcoding-market-charged-to-grow-at-the-cagr-of-15-from-2015-to-2019/274716
For more information, please visit https://www.wiseguyreports.com
Source: MarketersMedia
Release ID: 274716